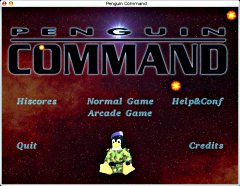 What is Penguin-Command?

This is a clone of the classic "Missile Command" Game, but it has better graphics and music. The gameplay has only been slightly modified. Penguin Command is licensed under the GPL.

Downloads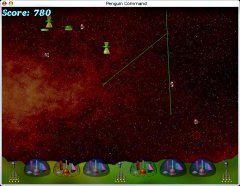 What's new in version 1.6.11?

fixed possible buffer overflow when $HOME is very large (Thanks Ulf Härnhammar).
removed the great tune Penguin Night since it seemed to cause random crashes (Thanks Brandon Barnes). Better solutions are very welcome. See the bug report for details

Reviews from Happypenguin.org

Incredible! The graphics and sound are beautiful, especially the music, and I've yet to find a bug in the game. This is another excellent example of what can be achieved in open source games.
Best waste of my time I have managed to come up with yet. Enjoyable, well paced and challenging.
Really wonderfull ! [...]
Penguin Command was everything I hoped it would be, and more. The graphics are very well done, the gameplay is smooth, and the game is pleasantly addictive. I can give this game no less than 5 stars.
I like it, nice sounds, nice graphics. It's fast enough on my K6-200.
Awesome game! Was just going through a menu and came across the icon...low and behold I find my now favorite Linux game!