SFont
Why Should I use SFont?

It supports colored, alpha mapped fonts
It is easy to use
You don't need any extra libs - just add the tiny SFont.c (4K) to your objects!
It's easy to create your own fonts!
Nice collection of good fonts
Handle as many fonts as you like at the same time
It works on any platform supported by SDL
It's GPL'ed. Change anything you dislike
It's well tested and used in many projects
You don't have to deal with strange file formats: all font info is stored in one image file
The fonts are not dependant on the used image file format
Nice C++ integration via a wrapper

Downloads

SFont 2.03
This tarball contains the SFont library (one .c and one .h file), a c++ wrapper, three example programs, two fonts, and the SFontViewer.
SFont 1.8
This is the older SFont version. It is still maintained, but not recommended for new projects, because it's API is less clean.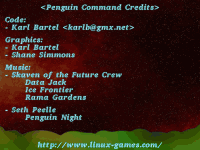 These projects use SFont

Other interesting SFont links